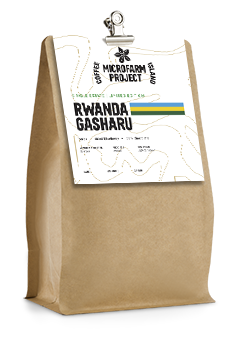 (new product)
Arabica Varietal: Bourbon
Location: Gasharu
Country: Rwanda
Attitude: 1,700 - 2,100 m.a.s.l.
Process: Washed
Roasting: Light to Medium

Cupping Notes
Herbs, Dried Blueberry, Dark chocolate

The Story
Gasharu coffee Co., a family business founded by Marie and Celestin, has developed a coffee culture and tradition over the last 30 years and has established strong relationships with coffee farmers' families. They promote high quality coffee and good living standards of coffee farmers in their community. The hills of Nyamasheke district are covered by 100% Bourbon coffee. This region's elevation, soil, and climate are what coffee trees love best. The coffee cherries are brought down to Gasharu washing station from 386 farmers from 12 main coffee village farms. Every year, Gasharu coffee employs 120-150 locals with the majority being women. The washed process offers the coffee bright acidity and fruity aftertaste.