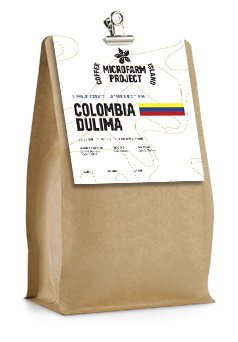 Arabica Varietal: Caturra, Bourbon, Typica, Castillo
Name: Dulima
Country: Colombia
Attitude: >1,600 m.a.s.l.
Process: Fully Washed
Roasting: Light to Medium

Cupping Notes
Bergamot, Vanilla, Roasted Almond

The Story
The spread of coffee planting throughout Colombia in the early 19th century is attributed to a priest who made coffee planting a penance for his parishioners. It worked and Colombia is now among the largest coffee producers in the world, and was number two behind Brazil for decades. The Tolima growing regions is named after the Tolima district, which was home to Pijaos people. The Pijaos were known among the Spaniards as fierce defenders of their homeland, which they called Dulima. Dulima coffee comes mainly from Garzon and Pitalito municipalities, carefully selected from small suppliers and farmers. This coffee has a rich creamy body with sweet and long aftertaste.