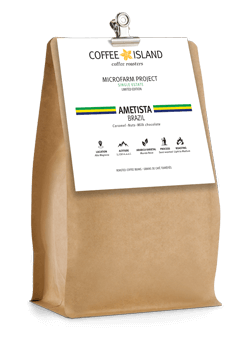 (new product)
Arabica Varietal: Mundo Novo
Location: Alta Mogiana
Country: Brazil
Attitude: 1,150 m.a.s.l.
Process: Semi-Washed
Roasting: Light to Medium

Cupping Notes
Caramel, Nuts, Milk chocolate

The Story
Brazil Ametista took its name from Greek mythology, according to which the Amethyst, a beautiful nymph granted protection to Diana from Bacco, who turned her into a gem. Bacco, repented, gave the stone the color purple, his favorite, and the power to protect its carriers from poisoning. For centuries it was considered a remedy for drunkenness, bringing courage and inner peace. It symbolizes the deep love, happiness and wealth.

Ametista is an excellent coffee, with mild fragrance, excellent aroma, full body and pleasant sweetness. The preparation is pulped natural. The coffee cherry skin is removed and the parchment, with a lot of the mucilage attached, is sun dried on raised drying bed.