Guatemala Finca Concepcion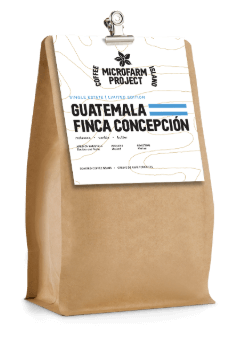 (new product)
Arabica Varietal: Bourbon and Pache
Location: Mataquescuintla, Jalapa
Country: Guatemala
Attitude: 1768m
Process: Washed
Roasting: Medium

Cupping Notes
molasses • vanilla • butter

The Story

The Concepcion farm dates back to 1890, owned by a Spanish family originally settled in Mataquescuintla to focus on the coffee business and cattle farming.
Nowadays, the farm has grown fivefold in its coffee production. A few of the Bourbon varieties that the farm was originally consisting of, are still there. In
April, the coffee trees are pruned, the soils are treated, and the trees are fertilized. When the harvest season starts, all ripe coffee cherries are picked manually. Although the farm has natural spring water, the family uses recirculated water from the moment of depulping so to avoid any contamination. The coffee is
fermented and then washed very well with clean water.