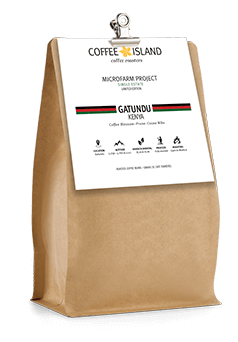 (new product)
Arabica Varietal: SL34 & SL28
Location: Gatundu
Country: Kenya
Attitude: 1,550 - 1,700 m.a.s.l.
Process: Fully washed
Roasting: Light to Medium

Cupping Notes
Coffee Blossom, Prune, Cocoa Nibs

The Story
Gatundu Town, only 50km from Nairobi, is known for being the land of Jomo Kenyatta, the first president of Kenya. The altitude in Gatundu Town is 1,695 m.a.s.l., but the range of where farmers are located goes from a low of 1,550 to a high of 1,700.

The processing is fully washed, as is traditional in Kenya. Ripe cherry is pulped by disk pulpers and fermented for 24-36 hours, depending on ambient temperature, before being washed in channels and transported to soaking tanks. The water that is used throughout the process, comes from the local river, Thiririka.