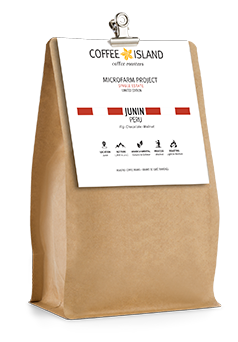 (new product)
Arabica Varietal: Caturra Catimor
Location: Junin
Country: Peru
Attitude: 1.800 m.a.s.l.
Process: Washed
Roasting: Light to Medium

Cupping Notes
Fig, Chocolate, Walnut

The Story
La Avandaza farm, owned by Victor Aguilar Cesar Gumercindo which is located in the Junin providence in Peru, is a member of the Central Cafe & Cacao association. The Central Cafe & Cacao association was born on March 14, 2003, thanks to the initiative of small coffee producers, organized in cooperatives, who demand specialized services with the aim to strengthen the coffee and cocoa production systems. The Central Cafe & Cacao has a social base made up of 9,000 small producers organized into thirteen cooperatives, located in the regions of Huanuco, Junin, Ayacucho, Cuzco and Puno. Their mission is to manage projects, develop competitive products and services that contribute to the strengthening of their social base and the value chain of Peruvian coffee and cocoa, promoting social development with a cooperative approach and conservation of the environment.