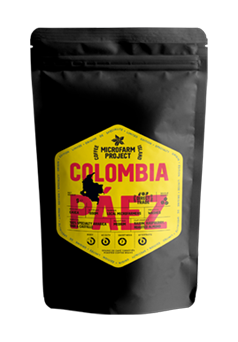 (new product)
Variety: 100% Specialty Arabica
Origin: Cauca
Country: Colombia
Attitude: 1,690 m.a.s.l.
Process: Washed
Roasting: Medium
Cupping Notes: Raisin, Raspberry, Roasted almond
Acidity: 6
Sweetness: 7
Body: 5
Aftertaste: 6

We are located in the Cauca region, southwest of Colombia. Here, the farms are owned exclusively by locals and smallholders, called Paez. The volcanic soil of the area, thanks to the Nevado del Huila volcano found in the nearby mountains, combined with the temperate climate, give special characteristics to the coffee, which is locally the source of the economy.