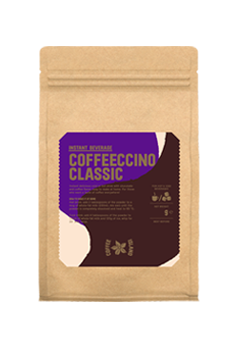 (new product)
Instant delicious cold or hot drink with chocolate and coffee flavor, easy to make at home. For those who want a taste of coffee everywhere!

HOW TO MAKE IT AT HOME
Hot drink:

Add 2 tablespoons of the powder to a mug of whole-fat milk (230mL), mix well until the powder is completely dissolved and heat to 65 ° C.

Cold drink:

Add 4 tablespoons of the powder to 120mL of whole-fat milk and 120g of ice, whip for 20'' and serve.