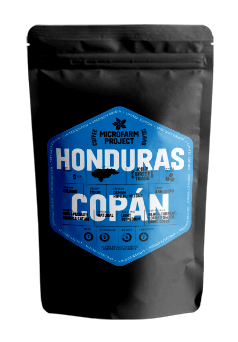 (new product)
Arabica Varietal: Catuai
Name: Copan
Country: Honduras
Attitude: 1,200 m.a.s.l.
Process: Natural
Roasting: Light to Medium
Cupping Notes: Black Currant, Cocoa Powder, Dried Dates
Acidity: 5
Sweetness: 7
Body: 7
Aftertaste: 6

The Story
This coffee is grown in the farm San Isidro, owned by Osman Romero Melgar. The farm, which is located in the Celaque area of the Copan region of Honduras, is 10 hectares, most of which is used for coffee production within a natural forest, and has been inherited to Osman from his parents. Osman is a trained agronomist and an important member of the Aruco Cooperative, managing production and administration.
Osman was one of the first producers within Aruco to start producing micro-lots and to try new processing methods and so was influential in the success of the spread of quality improvements throughout the cooperation. This catuai lot was processed natural. The cherries were delivered to the Aruco mill, where they were sorted and cleaned before being dried on raised beds. This coffee has a rich and full body with long and sweet aftertaste.