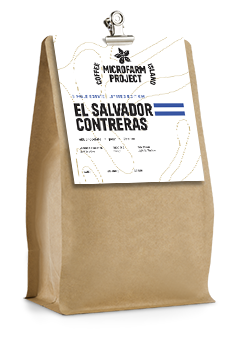 (new product)
Arabica Varietal: Red Bourbon
Name: Contreras
Country: El Salvador
Attitude: 1,250 m.a.s.l.
Process: Honey
Roasting: Light to Medium

Cupping Notes
Milk Chocolate, Pear, Licorice

The Story
This coffee is grown in the 'Finca Monte Verde', a 36 hectares farm, which is one of the five farms that the Contreras family owns, surrounding the area near Chingo Volcano. The Contreras family has been growing here for five generations, collecting almost 100 years of family coffee experience. Pacas, yellow and red bourbon coffee trees grow in the farm's rich clay soil, providing a home for creatures like rabbits and hummingbirds. The family is deeply invested in the local community as well as operates an animal sanctuary in the farm -taking in stray and neglected animals. The honey process offers a coffee with rich body and sweet long aftertaste.